Cultural Planning Training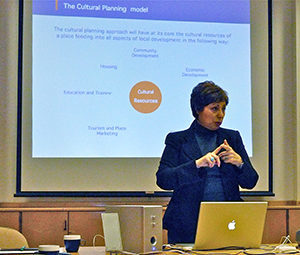 In her work, Lia Ghilardi offers a unique and innovative approach to cultural and urban development based on Cultural Planning.
Cultural Planning means thinking about place from different perspectives and points of view. It's a creative way of identifying the distinctive characteristics of a place (urban and cultural DNA) and integrating such cultural resources in local development plans. It is a method, not a blueprint.
It is delivered by putting together professionals such as architects, economists, artists, psychologists, planners, developers, together with community representatives and civic leaders, all contributing to a process of co-creation of innovative solutions responding to local challenges and/or aspirations.
Lia Ghilardi strongly believes that the complexity of today's urban environment is such that old, top down, solutions are not working any more.
Professionals working in the urban field need to be more sensitive to the socio-cultural dynamics of place and to collaborative forms of governance. This is why she has identified a need to train people to use the Cultural Planning method. To this end, she has developed a series of learning packages which she delivers through masterclasses, summer schools and peer-to-peer learning events.